Corporate Plans for Rail
---
Corporate Plans for Rail
Table of Contents
1
Introduction
2
Background
3A
Choice of Modes
4
Some New Proposals
4.1
New CBD Metro
4.2
ESR Metro
4.3
Cross Regional Rail
4.4
Light Metro
5
Epilogue
6
Conclusions
7
Abbreviations
Annex A
New CBD Metro
Annex B
ESR Metro
Annex C
Cross Regional Rail
Annex D
Light Metro
1 Introduction
This Paper is primarily a response to the corporate plans for the new government corporation trading as SydneyMetro. However, by considering other public transport modes, it is also effectively an attempt at a response to the wider public transport network for which there is no current overall plan, corporate or otherwise.
This paper supports automated metro rail as a technology concept, but indicates that opportunities to construct completely new stand-alone point-to-point automated metro lines in Sydney may be much more limited than has been assumed. Consequently, it seems odd that SydneyMetro has been given significant land use powers while being restricted to this one particular task. Other new modes, such as changes to CityRail, light rail and trunk (high capacity on a dedicated right of way) bus also appear to deserve the same careful attention that SydneyMetro is giving to its particular technology as part of the transport mix. Perhaps it's part of the political process that this modal restriction is all that other agencies would permit for the new corporation; it looks a bit like putting the modal cart before the planning horse.
One way of improving this could be for the government to place the planning of all public transport modes, and their coordination with land use and private road transport, in the hands of SydneyMetro, considering the core of expertise being established by the new corporation. An improved focus on the overall public transport network, rather than individual modes could also result from this placement.
2 Background
Metro rail can be very efficient. SydneyMetro's CEO, Les Wielinga, noted on ABC's Stateline recently that one of the big advantages of metro systems is the very short dwell times at stations. He went on to say they're fast, efficient railway systems that get people on and off very quickly. They can accelerate and decelerate quickly. They have got three to five doors on the side to get people on and off. They're new systems, they're very safe and very reliable. They carry high numbers of people. These are significant advantages for a global city.
CityRail is none of these things, and also has many legacy infrastructure and management issues to be addressed, so Mr Wielinga's words are effectively a summary of CityRail weaknesses, particularly for short and middle distance services. There is no better illustration of this weakness than from CityRail's evening peak services to the west from Sydney CBD stations, where extensive resources are being applied to dwell time management of double deck trains to sustain the timetabled 20 trains per hour. Despite this management, services are slower than, and well below the capacity of, that able to be achieved by efficient metro systems.
It needn't have come to this. Bradfield's vision was not only to build the city railway and electrify the then existing suburban services, it also covered plans for several new metro lines to the inner suburbs with the intent of relegating tram services, with their then severe city congestion problems, out to the suburbs as feeders and links to heavy rail. Design capacities of 26 single deck trains per hour were reportedly envisaged for his railways. The 30's depression and Lang's dismissal ended this vision and the trams remained, only to be neglected and then replaced by bus services after WW2.
Rail services, meanwhile, became even more focused on the suburban commuting task that lengthened as Sydney sprawled. Outer suburban services were increased at the expense of the inner suburban, double deck trains were progressively introduced to carry more seated passengers per train over the limited train pathways available and the Eastern Suburbs Railway opening provided more pathways into the Sydney CBD. More recently, the possibility of reintroducing single deck trains was considered and rejected in favour of the current Alliance Rail PPP contract for replacement double deck trains only. Single deck trains could have led to operating efficiencies, but only after some significant infrastructure changes were made, and it is easy to speculate that the lower initial cost option for rolling stock replacement won out.
Straight-line extrapolation of commuter rail growth trends led to plans for a new north-south rail link through the Sydney CBD being announced, along with rail extensions to the north-west and south-west. This link would have been a major commitment to network expansion with present CityRail technology, and implied a continuing strong growth in outer suburban commuting to the Sydney CBD that seemed incompatible with the "jobs closer to home" objective of the Metropolitan Strategy. However, the desirable possibilities of relieving the present overcrowding, and providing for a more limited amount of growth in outer suburban commuting, were set aside when the new link was abandoned.
It also seems likely that there would have been severe engineering and operating problems associated with a double deck rail link under the harbour and up to the surface at St Leonards as proposed, with the ECRL providing a timely warning of what not to do. It is now only a matter of record that a way to make the now-abandoned Sydney CBD Rail Link more compatible with the Metropolitan Strategy had been suggested. This would have involved the provision of a branch connection from the southern end of the Link to the western Main Line west of Illawarra Junction, and a new Warringah railway branching from the northern end. It would have utilised spare capacity on the Main Line to Strathfield to ease overcrowding and accommodate some growth from the west, and also have provided a service to Warringah. The number of new pathways from the north-west and south-west that could pass through the Sydney CBD would have been reduced as a consequence of these changes.
It reasonably follows, on balance from the above, that the original plan for a new north-south rail link should not proceed and that a different rail technology should be used on any implementation of this Link, such as stand alone automated metro rail for which SydneyMetro has responsibility, provided it can be efficiently integrated with land use and other public transport services. Certainly, SydneyMetro has assumed that a future metro cross-harbour connection is possible in its Corporate Plan, so it is logically also a valid assumption for this paper. It is also reasonable to plan on supporting more growth in inner and middle ring suburbs, as SydneyMetro is doing, while still relieving overcrowding and congestion for longer distance travel, as an appropriate strategy. However it's not at all clear that completely new stand-alone point-to-point automated metro technology is widely applicable to other parts of Sydney, and the implied government assumption that this is the case needs careful consideration. This paper provides some of this consideration.
3 A Choice of Modes
In principle, there are several ways by which public transport in Sydney can be improved and expanded. Transport planners would normally first identify the corridors to be served and then choose the appropriate mode, rather than start with a preferred mode as SydneyMetro is chartered to do. The four ways are broadly:
Extend CityRail lines. This can be the preferred option where spare capacity on part of the existing system would be put into use by such extension;
Establish new stand-alone metro lines;
Convert CityRail lines to operation with metro style trains; and
Establish a mode or modes intermediate between heavy rail and street-based buses and trams, referred to as Light Metro in this paper.
The SydneyMetro draft corporate plan envisages four possible routes, West, North West, South East and North East, making up two stand-alone point-to-point automated metro systems crossing in the Sydney CBD. There are potential difficulties with all of these routes, and also with what is left out.

The West and North West routes overlap existing CityRail routes with spare capacity made inaccessible by the limitations of present rail connections to the Sydney CBD. This natural project cost advantage of spare capacity needs to be offset against the expected lower cost of a new metro in considering options for the sort of capacity being sought for these routes. The South East route has different problems, where a short, high capacity metro with feeder street buses may not be the most suitable transport configuration. A new metro connection from the North East to the Sydney CBD seems more soundly based, but in this case may not be a political priority. Finally there are a number of other corridors, both from suburb to CBD and between suburbs, for which metro would be excessive, at least for some considerable time, and Victoria Rd seems to be one such corridor.

Some discussion on single deck trains is needed next. SydneyMetro's reference design envisages that its trains will consist of long carriages with at least three doors per side each, an arrangement that could well be optimum for a new stand-alone metro. However, if one or more CityRail lines were to be converted to operate with metro style trains, the legacy of curved platforms would need to be considered. For this reason, a design using short carriages having two doors per side, with articulation to contain the bogie count, would be more suitable. Effectively, the presently proposed SydneyMetro rolling stock configuration would most likely preclude the possibility of any CityRail annexation, as per the new CBD Metro proposal below.
4 Some New Proposals
A number of new rail proposals, with a focus on operation with metro style trains, are outlined below. Further details of the work needed for each of these proposals, which require of the reader some familiarity with the railway network and its practice, are contained respectively in Annexes A to D.
4.1 New CBD Metro
A New CBD Metro crossing the harbour rather than heading to Rozelle, imitating the abandoned heavy rail proposal, would appear to have many advantages. Its northern end, by absorbing the all stations to Gordon service and converting this to metro, would release pathways through the CBD for the building of a North West Rail Link from Epping and its operation (via the ECRL) with CityRail double deck trains. Capacity for a future metro to Warringah, branching from North Sydney, would also be provided. Additional track, mostly surface, would be required between North Sydney and Gordon, to separate CityRail services from the metro, and this in turn would offer CityRail opportunities for some growth and faster running for services from the Central Coast. A Parramatta to Chatswood shuttle service could still be provided on the ECRL if its planned extension eventually proceeds.
The southern end would split two ways and extend separately in tunnel to connect to, and annex, the Local Line to Strathfield west of Newtown (which is presently poorly utilised) and the Revesby via Airport Line south of Central, to provide a metro service on each route. This annexation would free-up additional City Circle capacity for CityRail services. A new link from the (also under-utilised) Main Line west of Illawarra Junction, crossing under the Suburban Line to access the City Circle, would allow some of this freed-up capacity to be used by additional CityRail services from the west. An underground metro extension from Strathfield to Olympic Park, and possibly Parramatta, could also be considered to increase capacity on this corridor, the former also because a depot near Flemington may be needed. The Airport Line metro route could be cut back to Riverwood if the Cross Regional Rail proposal from Castle Hill to Hurstville, as outlined below, is implemented.
A system configured as a core with two branches at each end, like that proposed for the New CBD Metro, is potentially more complex to manage than the simple point-to-point systems envisaged by SydneyMetro. However the use of grade separation at the junctions should minimise any additional scheduling complexity. It would certainly avoid the need to lock the scheduling for each direction together, as CityRail, with its numerous flat junctions, needs to do. A branching configuration would also seemingly provide a better capacity match with land use, as the very high densities in the Sydney CBD are unlikely to be equalled, or even approached, in the surrounding inner and middle ring suburbs. Headways of 5 minutes through the core in off-peak periods would translate to 10 minutes on each branch, which would be about the maximum tolerable without recourse to a public timetable. Overall, the choice of a configuration with two branches looks capable of providing a reasonable outcome for both the operator and the user of the network, and its integration with land use.
The cross-harbour section of the metro could be either on the bridge or in a tunnel, and the steeper (4.5%) grade capability of metro would provide more flexibility for station and route locations than for CityRail if the tunnel alternative were selected. Implementation would certainly be messier than for a completely new route, and one-person operation may be required initially, with automation being introduced at a later stage after the transition to metro had been completed. The overall result should be a west and CBD metro, plus a link to the north-west (NWRL), for less overall cost due principally to the need for significantly less tunnelling and more efficient use of existing CityRail capacity, and a bonus metro to the Airport and beyond.
A sub-harbour tunnel would be more expensive than using the bridge, but there are a number of network benefits from this alternative. Firstly, the bridge lanes and the Interim Rail West corridor would remain available for future rail use although this may be an even longer-term reservation due to the New CBD Metro proposal providing capacity for some CityRail growth. Secondly, by using the Interim Rail Pitt corridor (and thus providing interchange at Martin Place with the ESR), the interchange pressure on Town Hall station would be relieved. Finally, much of the North Sydney tunnels, and their Waverton approaches, could be released for CityRail and/or metro train storage.
There is also a staging benefit from selecting the tunnel alternative. Using the bridge would need the Warringah metro to be implemented early, with a high frequency shuttle bus service from North Sydney to Wynyard, to induce a modal shift sufficient to gain possession of the two eastern bridge lanes for an extended period.
4.2 ESR Metro
Converting the Eastern Suburbs Line with the Bankstown Line and the Hurstville Local Line (all stops) services can form a second metro system referred to here as the ESR Metro. New and separate track would be needed between Wolli Creek and Erskineville, as previously envisaged under the clearways program, to connect them all together. Some works, including a limited amount of localised tunnelling with grades and profiles to metro specification, would be required to achieve parallel running on the Illawarra and grade separation at junctions. The remaining longer distance Illawarra services would be diverted to freed-up City Circle capacity.
The implementation schedule for this conversion would logically be linked to a double deck rolling stock (for example, the C and K sets) retirement event. The ESR Metro could also be extended from Hurstville to Oatley to include Mortdale as the depot for this system. Oatley seems to be the only site south of Hurstville, but north of the Georges River, where there is sufficient space for a four-platform station to enable passengers to interchange between CityRail and ESR Metro services. CityRail could establish additional depot facilities at Waterfall, if there is insufficient space at Mortdale.
The ESR Metro would not be completely separated from CityRail services. Between Wolli Creek and Oatley, during the off-peak, ESR Metro trains would be interleaved with CityRail trains so that the inner pair of tracks (after a change to parallel running for this section) could be used for freight. The better traction and dwell time performance of the metro trains would minimise the amount of time-slot widening needed between the semi-express CityRail trains to accommodate this interleaving. ESR Metro trains terminating at Oatley would also need to cross freight paths during the off-peak. Similarly, there would be shared operation on parts of the Bankstown Line beyond Sefton Junction, even with the SSFL, and to Liverpool.
Shared operation also has many compatibility implications for the design and operation of ESR Metro trains, such as train width, platform screen deployment and pantograph height range. Although other operators already use RailCorp tracks, sharing by ESR Metro may require an overlay of its signalling and control system on the shared sections. The alternative to such an overlay would be one-man operation.
Providing an alternative freight route for getting to the South Coast, such as constructing a direct Enfield to Oatley freight link (most probably underground), or completing the Maldon to Dombarton link, could eliminate the need for shared operation on the Illawarra, while a metro diversion at Villawood to serve Fairfield and then to Prairiewood would remove the sharing into Liverpool and free up more capacity through this station for ensuring the reliability of the Castle Hill to Hurstville Cross Regional Rail service as outlined below. This latter diversion might be constructed alongside part of a possible western Sydney freight bypass from the SSFL at Villawood to an Eastern Creek container depot and the Main Western Line.
4.3 Cross Regional Rail
While CityRail services to the Sydney CBD are at or near capacity, and it has already been noted that new CityRail capacity to the Sydney CBD should not be built, there is still spare capacity within the CityRail network that can be added to as a relatively economical means of establishing some cross regional rail links within the Sydney basin. This would help provide support for the Metropolitan Strategy of multiple regional cities and major centres. Possibilities include Parramatta to Chatswood via Epping (as previously noted), Castle Hill to Hurstville via Parramatta and Liverpool, and Epping to Hurstville via Olympic Park and Bankstown. An extension of the NWRL from Rouse Hill to Penrith via Riverstone would also be possible. All four links would have two or more interchange points with Sydney CBD focused CityRail and/or Metro services. The idea here is to provide wider availability of one-change rail access to, and hence increase the development potential of, these centres, mimicking that which the existing CityRail network has done for the Sydney CBD. Some existing services, such as the Cumberland Line, the Birrong to Lidcombe branch of the Bankstown Line, the Olympic Park shuttle from Lidcombe and the Carlingford Line would logically be absorbed into these Cross Regional Rail services.
Metro style trains would more logically operate the first three links, as there would be no particular need to provide double deck trains apart form uniformity, and the corresponding use of grades and profiles to metro specification for tunnels and grade separated junctions would lead to cost savings. There would be some shared operation with CityRail and, for the Epping to Hurstville service, ESR Metro services. As with the ESR Metro, this would have compatibility implications for the design and operation of Cross Regional Rail services as metro. There would also be headway implications, with 10-15 minute headways during the off-peak providing a balance between providing convenient interchange and achieving reliable sharing with CityRail. The link to Penrith, being an extension of the NWRL, would necessarily be operated by double deck trains to a CityRail timetable. The other new CityRail extension, the SWRL, would also be operated similarly by double deck trains.
Logic would also suggest that the Cross Regional Rail links serving Parramatta, that is Castle Hill to Hurstville and Parramatta to Chatswood, should be built first considering the more advanced development of this regional city. The implied lower priority for the NWRL would be consistent with new capacity from Parramatta to the Sydney CBD and to Macquarie/Chatswood being available, and being accessible from Castle Hill via part of the Castle Hill to Hurstville Cross Regional Link. Eventually, the NWRL should be built, in part to provide faster direct access to Macquarie and Chatswood, but also to relieve pressure on the alternative routes through Parramatta.
4.4 Light Metro
The high cost, high capacity and long construction times for predominantly underground metros places an effective limit on their utility, particularly in a world likely to be influenced by ongoing energy, climate and capital constraints. While the Metropolitan Strategy identified the need for a new transport mode intermediate between bus and rail, the stand-alone automated metro rail technology under SydneyMetro's charter is really just a better (more efficient and lower cost) realisation of heavy rail capacity for inner and middle ring suburbs. The need for a lower cost intermediate mode that is better than bus remains, and has not been addressed.
The key role for an intermediate mode is to serve corridors not sufficiently developed to justify heavy rail, which reflects the current reality in many areas. Historically, most of Sydney's rail links were to the country for state development, and these subsequently made possible today's urban settlement and movement patterns as Sydney expanded beyond its tramway limits. In effect, the settlement patterns required to justify present day, and mainly CBD centric, CityRail services could have only been achieved with the rail links being there.
An intermediate mode can provide a lower cost and faster-to-implement service that can still influence settlement and movement patterns. For example, light rail and/or trunk bus services, segregated to achieve near-metro like operating capabilities with surface running where possible for lower costs and a more pleasant user experience, could be introduced. Road space management would be a key issue with this proposal. Electric powered light rail would be more suited to underground operation than bus, where surface running was not an option, and as a precursor to possible future metro conversion. High platforms, corralled passenger flows and off-vehicle fare validation, such as on the Docklands Light Railway in London's East End, would all be desirable features of such an intermediate mode to minimise delays.
There are many examples from other countries, but there is also almost as much variation in response to local circumstances. The aim is to achieve the right balance between being heavy enough to influence land use and travel patterns, but light enough to allow extensive surface operation.
Many European cities with tramway systems have chosen to underground central sections, known as pre-metro, with this possibility in mind, along with greater use of reserved and barricaded track in the suburbs for both higher speeds and separation from general traffic. But the actual conversion to heavy metro has mostly not happened. Instead, it has been more economic to make the trams heavier and longer, and to respond to citizen preferences for the retention of tramway style accessibility where possible. Ron Christie also recognised the need for something better than bus as a pioneer service to build up patronage levels for his metro plans, with realisation of the actual metros being a more distant objective.
Most new North American light rail systems are already much heavier than the traditional trolley car. High platforms and flat fares with off-vehicle validation seem to be the norm. Some are even marketed as metro systems, as there are no plans or need for anything heavier. Toronto is introducing a number of such lines to form a city grid network with its existing heavy metro, having found extending the latter to be increasingly unaffordable. High capacity trunk buses can also be used to achieve Light Metro operation, as illustrated in Curitiba and Bogotá, but a "third world" stigma remains that may be difficult or impossible to overcome. In summary, there are many Light Metro systems in the world, and almost as many differences as local circumstances have happened to influence, but an obvious requirement for them.
As already noted, The Metropolitan Strategy requires there to be more emphasis on supporting growth in inner and middle ring suburbs. Making this growth sustainable implies a higher market share for public transport, and to achieve this for a number of corridors, both from suburb to CBD and between suburbs, for which metro would be, at least for some considerable time, excessive. Two interlinked Light Metro systems are envisaged here, as examples of what would be possible to realise this emphasis. The first would operate on an east-west core through the CBD and the second on a north-south core around the Sydney CBD to the west. These systems together, and in conjunction with the heavy metro lines, would provide extensive two-dimensional coverage of the inner and middle ring suburbs, with metro-like headways to maximise public transport travel opportunities and to contain the need for car use.
Light Metro can also be used to improve public transport in the "off-rail" axis direction of several regional cities, with Liverpool and Penrith being examples within the Sydney basin. For Liverpool, Light Metro east and west of the city could serve higher density corridors and be connected by a north-south transit mall route through the city centre and the rail station. An interesting link to the east would be from Liverpool to Milperra, Revesby, Menai and Sutherland with a Menai facing branch to Bankstown. Similarly for Penrith, Light Metro north and south of the city could be connected by an east-west transit mall through the city centre and the rail station. Elsewhere, Wollongong, Gosford, Wyong and North Warnervale are possibilities, with the last three being interconnected with a north-south coastal system to form a Light Metro grid network. The key point here is that there is potentially a large market for Light Rail metro that would lead to scale economies for rolling stock and civil works.
5 Epilogue
There have been several breathtaking changes to Sydney's public transport plans within the current decade. Firstly, the MREP was announced and, apart from the SWRL component, abandoned along with the announcement of a replacement metro for the north-west. This too was subsequently abandoned, and replaced by a core CBD metro proposal with plans to develop some potential corridors. It became difficult to know what to believe, and the community's healthy dose of cynicism was a quite understandable antidote.
The unsustainability of "government by silo" may have been the main culprit. While the Department of Planning released the Metropolitan Strategy with its sound focus on regional cities and jobs closer to home, RailCorp seems to have been quite unstrategic in projecting past patronage trends to arrive at the MREP. The magnitude of the expenditure, and the engineering challenges, seem to have triggered a serious rethink. The current situation, where rail expansion through the Sydney CBD is to be by completely new metro, and more emphasis is to be placed on serving growth to the inner and middle ring suburbs, is a better and more strategic way forward.
SydneyMetro has been chartered to establish completely new stand-alone point-to-point automated metro lines. However, this is not the only new transport solution that Sydney needs. There is also a role within the Greater Metropolitan Region for changes to CityRail beyond its Corporate Plan, such as line extensions and/or conversions to operate with metro style trains, and for an intermediate capacity mode. While the Metropolitan Strategy identified the need for such a new transport mode between bus and rail, the stand-alone automated metro rail technology under SydneyMetro's charter is really just a better (more efficient and lower cost) version of heavy rail for inner and middle ring suburbs. The need for a lower cost intermediate mode that is better than bus remains, and has not been addressed. The charter effectively limits SydneyMetro to identifying corridors to fit its solution.
There are problems with all of the corridors so far suggested by SydneyMetro. The West and North West routes overlap existing CityRail routes with spare capacity made inaccessible by the limitations of present rail connections to the Sydney CBD. The South East route has different problems, where a short, high capacity metro with feeder street buses may not be the most suitable transport configuration. Only the North East appears relatively sound, but in this case may not be a political priority. Even considering Victoria Road in isolation would be problematic, with SydneyMetro's preferred design having too much capacity for the inner and middle suburbs, but being the wrong technology to extend further out.
It's easy to understand the engineering, project management and financing attractions of stand-alone automated metro rail, with its brand new technology and complete separation from other transport modes. However, the high energy, time and financial costs of these predominately underground systems will effectively constrain what can be achieved in today's world where sustainability is a key consideration. Accordingly, the Sydney transport investment lag seems likely to widen further and continue to trouble any incumbent government.
This paper indicates that a potentially better value-for-money outcome could be achieved by combining new metro construction and operation with annexation and/or conversion of some CityRail lines to both realise new metro services and improve CityRail capacity utilisation. Greater implementation difficulties than would be experienced with completely new stand-alone systems must of course be acknowledged, for example, it can be necessary to remove old capacity ahead of introducing new capacity. However there appear to be no showstoppers provided there is sufficient will to proceed. In particular, the New CBD Metro proposal in this paper, which includes a metro to the west and relief for CityRail capacity to ease overcrowding and accommodate some further growth in outer suburban commuting to the Sydney CBD, appears to address many of the Government's more immediate transport priorities.
This paper has also identified a potentially substantial applicability for more affordable Light Metro, both within and outside the Sydney basin. However the difficulties of introducing this mode are also acknowledged, with all the messy and time-consuming community-involving negotiation on surface land use to make expensive tunnelling the exception rather than the norm. The conversation on this should start now, and perhaps SydneyMetro could be given additional powers to consider a mix of transport technologies to help this along.
Conclusions
Some brief conclusions in bullet point format are presented below.
There is a pressing need for metro style trains in Sydney to serve short and middle distance journeys for which double deck trains are not, or would not be, particularly effective.
SydneyMetro has been chartered to establish completely new stand-alone point-to-point automated metro lines, with capacities similar to present CityRail lines, as a means towards this need.
The high cost and high capacity of these stand alone, and predominantly underground, metro lines suggests that this particular charter may have limited applicability for Sydney in today's world.
There are other heavy rail opportunities, such as the extension and/or conversion to metro style trains of some CityRail lines, that can lever off existing spare rail capacity for a potentially better value-for-money outcome.
An intermediate mode is also needed to provide a faster-to-implement service that can achieve near-metro like operating capabilities with surface running where possible for lower costs and a more pleasant user experience.
SydneyMetro would need to broaden its charter to encompass these other transport possibilities if it is to become the effective public transport change agent for which Sydney has long been waiting.
7 Abbreviations
The following rail related abbreviations have been used in this paper.
| | |
| --- | --- |
| ECRL | Epping to Chatswood Rail Link |
| ESR | Eastern Suburbs Railway |
| MREP | Metropolitan Rail Expansion Program |
| NWRL | North West Rail Link (part of the MREP) |
| SSFL | Southern Sydney Freight Line |
| SWRL | South West Rail Line (also part of the MREP) |
---
Annex A New CBD Metro
This annex presents a section-by-section description of the work required to establish a new CBD metro using a combination of new construction and annexation of CityRail capacity. The implications for the remaining CityRail capacity and services on the affected routes are also covered.
Section
Description
Cross harbour
Additional rail capacity across the harbour can be provided by either restoring the eastern bridge lanes to rail, or by constructing a sub-harbour tunnel. An alignment just west of the bridge was proposed for the now abandoned heavy rail link, and this paper assumes that a link for metro operation would be feasible, as SydneyMetro has done. Metro on the bridge would probably need to be on the western side to access the Interim Rail West corridor through the CBD, with CityRail services moved to the east.
Immediate north
If the metro uses the bridge, it would serve Milsons Point and continue on to North Sydney and towards Gordon via Waverton. CityRail services on the eastern side would take a new tunnel route from North Sydney to St Leonards via Crows Nest. A future Warringah link would branch (grade separated) from the Gordon metro in tunnel just after North Sydney, and have passenger interchange with CityRail at Crows Nest before heading east and north. Further modifications to North Sydney station would be required to handle the increased capacity, or the CityRail station could be relocated under the Pacific Highway.

If the metro uses a sub-harbour tunnel, it can climb more steeply to include Waverton and Wollstonecraft after Mount Street (North Sydney), however Waverton may still need to be underground with the point of surface interconnection being near Bridge End Wollstonecraft. Milsons Point would then continue to be served by CityRail services, and a similar new tunnel route from the existing North Sydney station to Crows Nest and St Leonards for these services would also be required. A future Warringah link would branch (again grade separated) just west of Mount Street and turn through Crows Nest to head east and north.

Chatswood
Four tracks would continue to Chatswood and then to Gordon to separate CityRail and metro services. A new metro underground station is proposed for Chatswood, with dives from Roseville and from Artarmon. Although not essential, the new underground station would improve the separation of services and preserve CityRail's junction flexibility for accommodating additional trains from Epping that cannot, or need not, proceed beyond Chatswood. A future Parramatta to Chatswood shuttle is one example of the latter.
Gordon
Metro would occupy the inner pair of tracks and use the existing platforms from Roseville to Gordon. Additional platforms, facilitating interchange between Metro and CityRail, would only be provided at Gordon. A future underground extension to St Ives is a possibility.
CBD
If the metro uses the bridge, all six platforms at Wynyard will be used and the metro will continue along the Interim Rail West corridor. If the metro uses a sub-harbour crossing, the route would veer west to serve Barrangaroo before joining the Interim Rail Pitt corridor near Martin Place for interchange with the ESR. There would not be any interchange with Wynyard at Barrangaroo.
Inner West Line
It is proposed that the Inner West Line from Strathfield, and also the Airport Line, be annexed from CityRail for metro operation. The Inner West metro would be diverted underground from the west of Newtown to serve new underground stations at Newtown, Darlington (for Sydney University), and Broadway before reaching Central.

Undergrounding of this section would provide surface space for CityRail changes as detailed below and illustrated on Diagram A–1

Beyond Strathfield, the line could be extended to Olympic Park or Parramatta, and this suggests that Flemington could be an appropriate depot site. There is a further possibility of building a dedicated freight link from Flemington to Auburn yards, and using this also to access a metro maintenance centre.

Airport Line
The Airport Line, and the two inner tracks to Kingsgrove and soon to Revesby, would be annexed from CityRail. North of Green Square, the line would be diverted under Redfern to a grade-separated junction with the underground diversion of the Inner West metro before Central. New platforms at Redfern, providing interchange with all other lines, would be provided.
CityRail
The Suburban Line would be moved south at Newtown to use the then vacated Inner West Line platforms, and this would provide space for a Strathfield facing junction from the Main Line that dives under the Suburban line and re-emerges to connect with the previous Local Line to Redfern and the City Circle via Town Hall. This allows the full capacity of the Main Line east of Strathfield to be exploited, and would more than compensate for the loss of Inner West Line pathways for Leppington (assuming the SWRL is completed) via Liverpool trains due to the annexation.

Platforms at Strathfield would also need to be reassigned to provide a westbound platform dedicated to the Main North to avoid delays (and increase capacity) at the flat junction. This arrangement provides a right hand turn lane for northbound services, which is clear of services to the west. Modifications to the Suburban Line flyover could also be made to match the quadruplication project to Epping. These changes are also illustrated on Diagram A-1.

Due to the loss of local Line capacity for CityRail services, it is proposed to reassign the outer suburban double deck services over the two other lines between Strathfield and Central as follows. Suburban: Epping, Leppington via Granville and Vineyard +Richmond off peak. Main: West beyond Blacktown, West InterCity, North InterCity, and Richmond peak expresses. This arrangement would provide more services from the west in total (Penrith + Richmond line services, each on a different sector). Peak expresses via Revesby would supplement the full time Leppington via Granville services.
---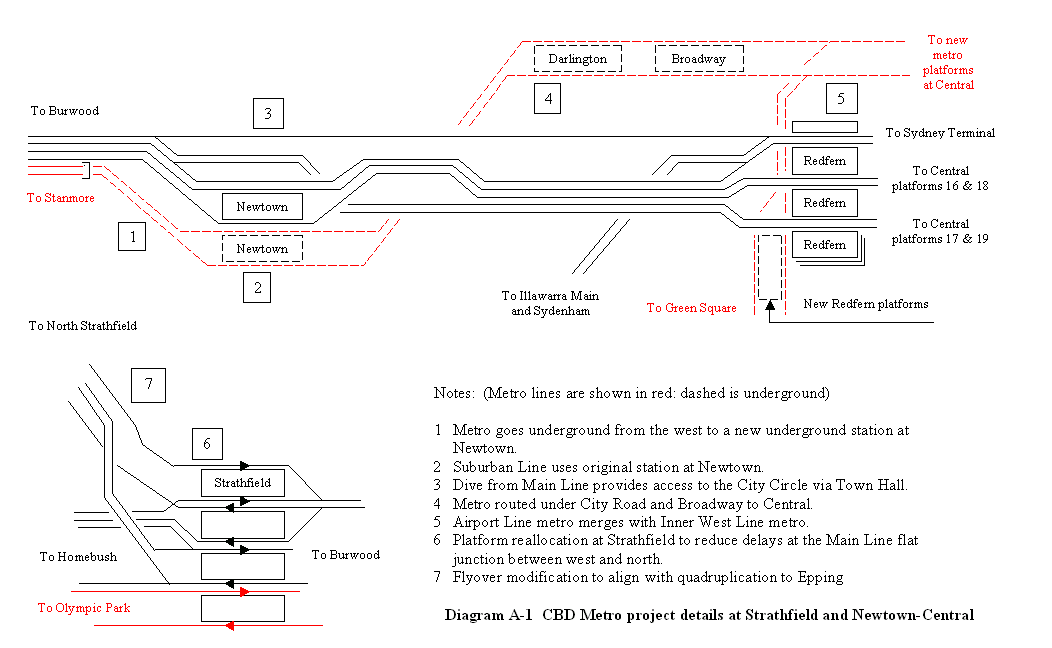 ---
Annex B ESR Metro
This annex presents a section-by-section description of the work required to convert the Eastern Suburbs, Bankstown and Illawarra Local lines to the ESR Metro.
Section
Description
Erskineville
Separate tracks would be provided between Erskineville and Sydenham to carry the ESR Metro exclusively. The ESR Erskineville connection would now be made to these metro tracks. They must be the western two tracks at Sydenham, but could reach Erskineville in one of two ways. These are to remain on the western side to Erskineville and then dive to a modified ESR connection, or to flyover to the east before St Peters and use the existing ESR connection after the other four tracks are slewed to the west. Stations at Erskineville and St Peters would only need to be served by metro. The Erskineville to Wolli Creek changes are illustrated on Diagram B–1.
Sydenham
A junction off the Bankstown Line just south of Sydenham is required to provide a metro connection with the Illawarra Local. The first step is to align this connection on either side of the freight link from Enfield: the down by a simple web but the up by diving under the freight link and the Bankstown Line to join the latter.

The freight link and metro, working in parallel, then swing back to the Illawarra Line alignment and under a flyover for both Glenfield tracks and the new Up Main Illawarra. The freight link leads directly into the new Illawarra Local, being the centre pair of tracks with parallel running, and the metro connects to both the Main and Local in each direction. This is done so the metro can share with CityRail on the Main in off-peak periods when there is spare capacity and the Local is open for freight, and on the Local during peak periods when there is a freight curfew.

Tempe
There will be six tracks through Tempe and over the Cooks River, with the western pair diverging towards Glenfield and the other four towards Hurstville. Wolli Creek upper level would become a four-platform station. Tempe station would be lost with the new works, but a new Tempe station could be constructed further north on the metro tracks where they are running parallel to the freight link.
Hurstville-Oatley
Four tracks, and the metro operation could be extended to Oatley where there is space for a four platform interchange station and metro turnback, and encompass the Mortdale depot. The down direction running line(s) would pass east and under this depot to effectively "island' it for metro access to avoid CityRail conflicts.
---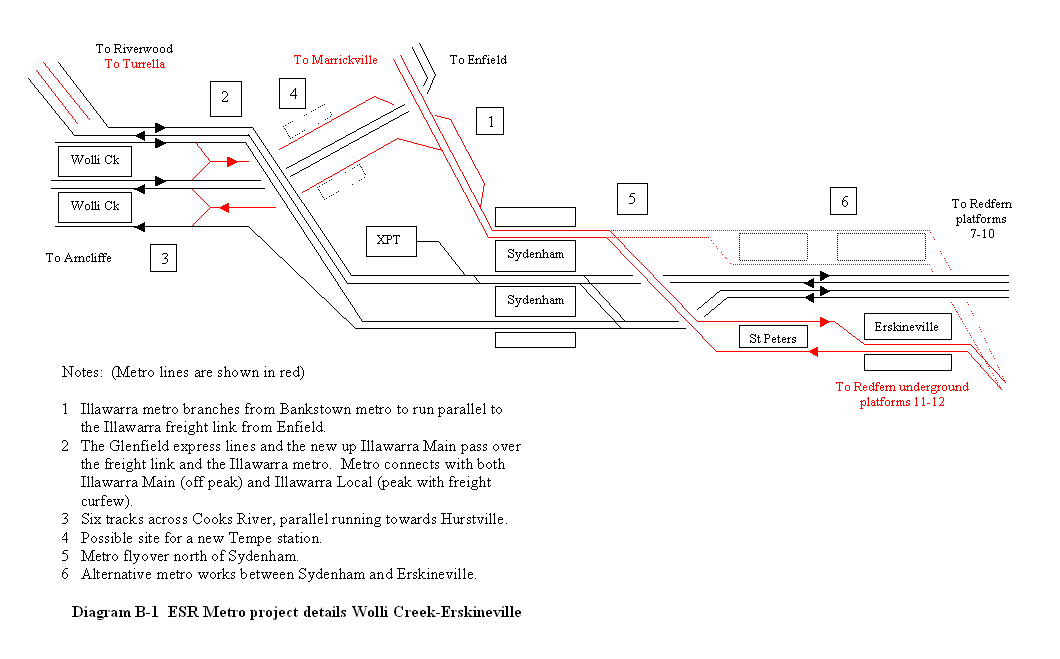 ---
Annex C Cross Regional Rail
There is still spare capacity within the CityRail network that can be added to as a possibly economic means of establishing some Cross Regional Rail links within the Sydney basin to help support the Metropolitan Strategy of multiple regional cities. Service opportunities include Parramatta to Chatswood via Epping (as previously noted), Castle Hill to Hurstville via Parramatta and Liverpool, and Epping to Hurstville via Olympic Park and Bankstown. An extension of the North West Rail Link from Rouse Hill to Penrith via Riverstone would also be possible.
This proposal is for a number of individual rail links that can be implemented separately, and not one single package. However there are always network benefits from having more travel opportunities from which to choose. More details on each proposal are presented below, along with an outline of some common issues.
Link
Description
Parramatta-Chatswood
Extending the ECRL to Parramatta, as originally planned, automatically provides capacity to run a Parramatta to Chatswood rail service. However, the possibility of extending this service south of Chatswood will probably be eliminated consequent to the proposal in this paper to annex the all stations to Gordon service into the New CBD Metro.

The loss does not seem particularly significant. A journey from Parramatta to North Sydney would be faster via Central than via the ECRL, and the difference to St Leonards is small once an allowance for changing trains at Parramatta is considered.

Castle Hill-Hurstville
A new partially underground link from west of Toongabbie (in the down direction) to the NWRL west of Hills Centre (in the up direction) is proposed for the northern end of this service. The service would share capacity with the Hills Centre to Castle Hill section of the NWRL with a new turnback at the eastern end of Castle Hill. With the NWRL delayed, these two stations could end up being established first, but to a CityRail profile, with the rest of the NWRL to follow. From Toongabbie to Parramatta and Liverpool, the new service would absorb, and add to, the Cumberland Line service.

New construction south of Liverpool would include the planned "Y" link to the East Hills line, a new station at Georges River established in part to provide interchange between this service and CBD services coming from Glenfield, additional track to Revesby and a dive at Riverwood to an underground link to Peakhurst and Hurstville. It seems logical to construct new underground platforms at Riverstone for this service, and cut back the Revesby branch of the CBD Metro (as proposed in this paper) to a surface terminal station at Riverstone with interchange to other services.

Epping-Hurstville
This service depends on the quadruplication between Epping and Strathfield going ahead. Other works include a metro profile dive south of Rhodes to connect with Olympic Park, use of the existing track towards Lidcombe, a link with the line from Berala and a metro profile underground link from a dive east of Punchbowl through Roselands and Beverly Hills to Hurstville.

The design of Olympic Park station would need to consider the needs of both the New CBD Metro extension and the Epping to Hurstville Cross Regional Service, as well as preserving CityRail access to the present balloon loop for special event trains that would be mainly from outside the Sydney basin.

The works at Lidcombe need to achieve a link from Olympic Park to Berala via an interchange at Lidcombe. A completely new station beneath the existing station to achieve grade separation, and built at an angle to the surface tracks, would facilitate interchange between all platforms via the underground station. This part of the link could be to a CityRail profile as CityRail and/or other operators may be potential, but only occasional, users. A lower cost solution may be possible by incorporating the recently constructed Lidcombe Turnback into part of the works.

The station at Hurstville would be shared with the Castle Hill to Hurstville service if both were implemented. Grade separation at Sefton Junction may also be required.

Rouse Hill-Penrith
Extending the NWRL from Rouse Hill through Marsden Park to UWS and Penrith would be consistent with this city's regional status under the Metropolitan Strategy. The crossing at Riverstone, and the floodplain traverse, would probable require an elevated structure. The depot at Penrith could be expanded, and possibly relocated, to take over from the temporary facility at Rouse Hill if this extension to the NWRL proceeds.
---
Annex D Light Metro
Two separate Light Metro systems are envisaged here. The first would operate on an east-west core through the CBD and the second on a north-south core around the Sydney CBD to the west. These systems together, and in conjunction with the heavy metro lines would provide extensive two-dimensional coverage of the inner and middle ring suburbs to maximise public transport travel opportunities, promote corridor development and to contain the need for car use. It is acknowledged that parts of the indicative routes chosen have been influenced by the metro systems shown in the Christie Report.
The following outlines each system separately and then deals with some common issues.
System
Description
East-west
The core section of this system runs east-west across the Sydney CBD between Pyrmont and Taylor Square before turning south to serve Moore Park, Kensington (also for Randwick Racecourse) and UNSW.

The eastern end splits at UNSW to serve Randwick, Coogee and Maroubra on one branch, and Pagewood, Maroubra Junction and Little Bay on the other. The western end splits at Pyrmont to serve the Victoria Road corridor to West Ryde and possibly Rydalmere on one branch, and to Leichhardt and Five Dock on the other. Beyond Five Dock, this branch takes up a cross-suburban role to serve Burwood, Campsie, Bexley, Kogarah, Brighton-le-Sands and Botany before ending at Maroubra Junction.

A possible alignment through the CBD could be to use the axis of Bathurst St as it is centrally located and could provide interchange with all existing and future rail systems. However it is not known if the Cross City Tunnel would prevent this alignment being adopted.

It seems likely that the present tram route across Wentworth Park would be suitable for the Five Dock branch of this system. If so, the possibility of shared operation with the tram service over this section could be investigated.

North-south
The core section of this system runs from Forestville in the north to Sydenham in the south around the CBD to the west. Intermediate points served include Chatswood, Lane Cove, Drummoyne, Forest Lodge (where there is interchange with the Five Dock branch of the east-west system), Campertown, Newtown and Sydenham. This core could attract many journeys that otherwise would be through the Sydney CBD.

The northern end spits at Forestville to serve Terrey Hills on one branch, and Brookvale and Manly on the other. The southern end splits at Sydenham to serve International Airport, Brighton-le-Sands, the nominal F6 corridor and Miranda on one branch, and Mascot, UNSW, Moore Park, Bondi Junction, Bondi and possibly Rose Bay on the other.

Common issues
It can be seen that there are four sections that are shared by the two systems: through Drummoyne, through Brighton-le-Sands, Moore Park to UNSW and Pagewood to Maroubra Junction. Along with the interchange at Forest Lodge, each shared section promotes interchange between the two systems. The shared Moore Park to UNSW section also ensures that these large traffic generators, and Randwick Racecourse, are widely accessible, either directly or by a number of well dispersed interchange points with rail, and can be served with sufficient peak capacity for these generators. A tram link from Central to Moore Park would provide a convenient supplement for this capacity, particularly for passengers connecting with InterCity and CountryLink rail services at Central.

It is likely that capacity constraints would first arise on these shared sections, particularly for Moore Park to UNSW where it is the core section of the east-west system that is being shared. One solution would be to introduce bifurcated stations (two platforms for one line), or plan for such an introduction, on these shared sections. Bifurcation of the Sydney CBD station could also be useful.

The Rozelle Depot site currently envisaged for the CBD Metro could be used for the Light Metro instead as it would be accessible from both systems.
---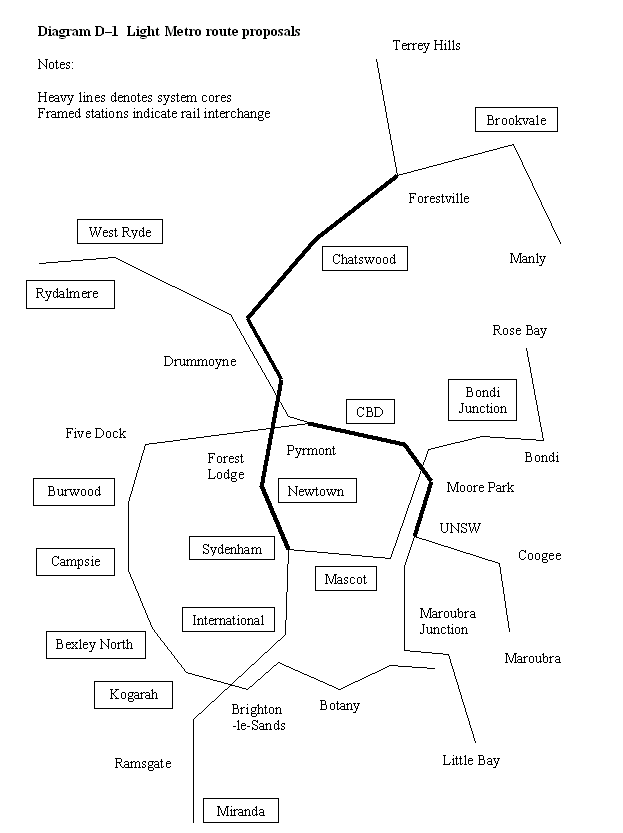 ---